How can I reuse or recycle lamb bones?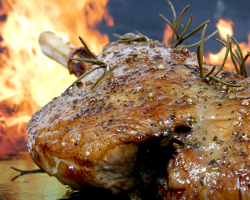 We've had an email from Riann:
I've seen you've got suggestions for ham bones but what about lamb ones? I can't think of anything I'd use a lamb stock for! Could I give them to my friend's dog?
Our dog Lily got rather poorly sick from eating a raw lamb bone last December – but other people seem to feed their dogs all sorts of raw bones without any problems — your friend will probably know how their dog reacts to raw bones. Most people say not to give dogs (or cats) cooked bones though, as they are more likely to splinter.
Lamb stock isn't as commonly called for as chicken or beef stock as it has such a striking flavour but you could use it in Shepherd's pies or lamb stews/casseroles or tagines, or to make a gravy for with your next roast lamb joint/chops. (Don't forget you can freeze stock – condense it first so it doesn't take up as much space.)
Anyone else got any other suggestions for things to do with lamb stock? Or any other reuses for lamb bones?
Related Categories
food
,
items
Search for other related items