How can I reuse or recycle cauliflower leaves?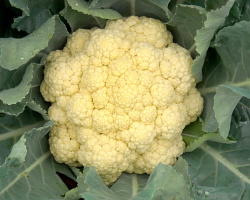 I randomly bought a cauliflower on Saturday – not something we eat that often because John has overboiled nightmares from childhood – and as I was stripping off the many, many leaves into the compost bin, I wondered if there were any other options for the leaves other than just letting them rot.
The first idea thing that came to mind – as happens a lot – is that when we FINALLY get chickens, they'll like the green snack. (It's been a year since we decided to get chickens, a year since I went on a course to learn all about keeping them but circumstances have conspired against us so far – we should have them soon though. A very frustrating wait!)
The next thing I wondered was if the leaves are edible – well, not just edible but enjoyable edible – by humans — and apparently they are. I found suggestions to use them instead of cabbage in bubble & squeak type dishes, a recipe for soup, and (my personal favourite) recipes for putting them in pakoras or bhajis. As an absolute minimum, I should be adding them to my stock box in the freezer instead of putting them in the compost. It's brocolli stalks all over again – a versatile vegetable that we silly wasteful people throw away because we don't know any better.
What do you do with your cauliflower leaves?
Related Categories
food
,
garden
,
items
Search for other related items