How can I reduce my use of our clothes dryer?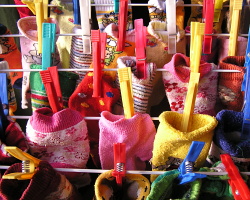 This "Reduce This" follows on from Tuesday's "How can I make this?" question: "how can I make a outside washing line cover re-using/recycling stuff?".
I read a lot of green/simple living blogs by people in the US and it amazes me, utterly amazes me when people say that their local homeowners association or the like doesn't let them dry washing outside on washing lines. It seems crazy to me that people aren't allowed to take advantage of the great solar and wind-powered dryer that is the big blue room.
If you can't dry outside – because you're not allowed or because you haven't got any outside space – what do you do to avoid using an electricity-guzzling tumble dryer?
Do you have any tricks to speed up the drying process (extra spinning? ironing?)? Are retractable washing lines the way forward?
Related Categories
household
,
reduce this
,
reverse this
Search for other related items