What can I reuse or recycle to make a clothes airer?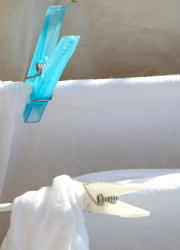 A couple of weeks ago on on The Really Good Life, I post my top 5 clothes line drying tips.
One of my tips is to use a clothes peg airer thing if possible – one of these things – it stops the little items taking up space on your main line and is easy to take inside if it starts raining.
Petra liked the idea and decided to make her own out of "some electricity pipe, an old iron coat hanger, some rope and pegs" – and that's so great that I'm now adamant about reusing and recycling to make my own, once my current flimsy plastic ones break. And it got me thinking about making other line drying/clothes airing stuff too…
Have you made any clothes lines/airers/drying racks yourself, reusing and recycling old materials? What did you use?
Or have you fixed/extended a shop-bought airer to make it more suitable for your needs?
Any tips or advice for anyone else?
(Funnily enough, I was thinking about this a year ago too – I asked how to make a cover for my rotary airer so I could leave clothes out during occasional showers. It must be something about this increasingly moist time of year!)
Related Categories
garden
,
household
,
reverse this
Search for other related items