How can I reuse or recycle old bedding?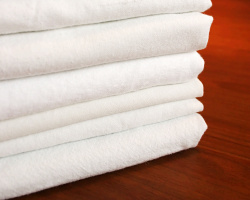 We've had an email from Yvonne:
What can we do with a box of old double bed sheets, duvet covers and valances which we don't use any more because we've got a king size bed?
The first thing I'd suggest would be to pass them on – if they're still in ok condition, give them to a charity/thrift shop or local shelter, or offer them on Freecycle. Bedding, particularly duvet covers, seems to be pretty popular in the charity shops that I go to seem to.
Aside from that, there are a whole lot of reuses for bedding because at the end of the day, it's just flat lengths of fabric – and usually 100% cotton (or at least cotton-heavy) fabric at that. Rag ruggers often use bed sheets/covers because they're cheap & available, and the old solution was, after turning the outside edges in, to use them for handkerchiefs.
Any other suggestions?
Related Categories
clothes and fabric
,
household
,
items
Search for other related items