How can I reuse or recycle … out of date food colouring?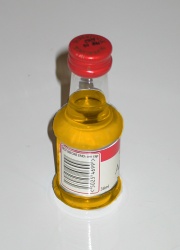 I was sorting through a kitchen cupboard the other day and found three half bottles of food colouring from the days when I used to make colourful icing for cakes (mmm, sugar and E numbers).
All three – the faux-primary colours of red, yellow and blue – have gone past the "best before" date on their lids but even not taking that into consideration, I'm unlikely to use them for their intended purpose in the near future since I've stopped baking that type of cake and I get my E numbers through large quantities of orange squash these days.
So what else can I use them for? I'm tempted to try them for dying fabric but suspect the colour would just run with water – is that the case? What about other use as other dyes such as in paint?
Related Categories
food
,
items
,
kitchen
Search for other related items