How can I reuse or recycle meat bones?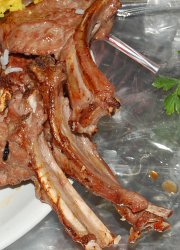 We had an email to our Compost This address from Mark, asking:
Can I compost bones, free from the butcher?
In the vast, vast, vast majority of cases, this would be a big no – the smell of any left over meat or marrow would probably attract unwanted vermin, they could introduce/encourage dangerous organisms which might not get broken down in the composting process and depending on the thickness of the bones, they could take an age to rot down and clog up your heap in the meantime.
But what else can be done with them? Any suggestions?
(Photo by redvisualg)
Related Categories
food
,
items
Search for other related items