How can I reuse or recycle phone chargers/battery rechargers?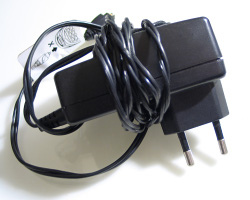 We've had an email from Elizabeth:
I have quite a collection of recharger plugs for stolen or broken mobile phones, cordless drills, etc. These never seem to fit the newer versions. What should I do with them?
I believe in the UK they're covered by the WEEE Directive and nearly all household waste sites have specific points for electronic equipment to ensure they're disposed of safely.
That's just disposal though and it would be better to reuse them if possible. If you still know the maker/model of the original piece of equipment, you might want to try putting them on eBay – or selling them at a car boot sale or giving them away on Freecycle – to see if someone else could use them. Some charities that collect old mobile phones might also welcome old chargers – they usually say whether or not they want them on their websites.
(There is a move to make a universal mobile phone charger – nearly all the major manufacturers have agreed to use it – so hopefully that'll cut down this problem slightly in the future.)
Any other suggestions for reuses or ways to recycle them?
Related Categories
household
,
items
,
technology
Search for other related items