How can I reuse or recycle audio cassette tapes?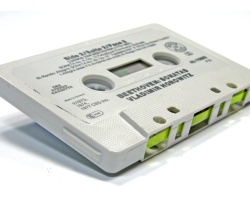 I've recently been clearing out loads of old stuff from my obsessive teen fandom of a certain, ahem, fluffy-haired band. Ebay is currently in the process of loving me because I'm halfway there, selling my previously collected tshirts, vinyl and assorted memorabilia. (Some might even say, I'm living on a prayer with all the proceeds.)
Given my obsession started before I got a cd player in my bedroom, I bought all their early albums on cassette tapes and just about stretched them to breaking point with repeat playing. While the vinyl has lasted – and sold – well, I fear the cassette tapes are beyond the point of passing them on to someone else.
So what else can I do with them? Is the tape reusable? And if so, any ideas?
Best Suggestions
Pass Them On: Some people still use them – for both listening to and recording – so it's probably worth checking to see whether your local charity/thrift shop still accepts them or offering them on Freecycle. Some charities also collect them for reuse for recording spoken newsletters and the like – see the comments below.
Reuse: Tapes are very retro-stylish at the moment and people are using the plastic bits to make belt buckles, bags and other decorations. The tape can be knitted or crocheted too.
Recycle: The tapes are electronic waste so they should be collected by your local authority in their e-waste bins.
See the comments below for more suggestions and ideas
(Photo by tijmen)
Related Categories
items
,
technology
Search for other related items