How can I reuse or recycle … non-crisp crisps or non-cracking crackers?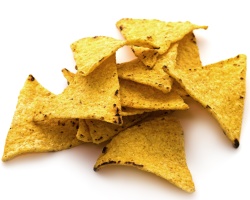 John and I were digging through the cupboards for something to accompany our cheese-and-bread lunch yesterday and we can across half a soggy pack of cream crackers and a long-opened pack of nacho chips. They had lost their crack, their crisp and their snap.
They weren't out of date, just had been left unsealed and absorbed the steam from our cooking in the kitchen. They tasted fine, just were disconcertingly chewy.
Has anyone got recipe suggestions that would cover up the lack of crunch?
(Photo by sh0dan)
Related Categories
food
,
items
Search for other related items