How can I reuse or recycle an orthopaedic corset?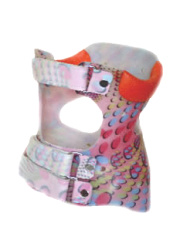 We've had another email from Maja:
Due to my spine illness, I have to wear an orthopaedic corset (looks exactly like this one apart from the pattern,because mine are black with colorful polka dots).

Each year I have to get a new one, because the whole body is developing and they are getting too small. I can't donate them because each one is customized to the user. How can I recycle it?
For actually recycling it, I'd ask the manufacturer if they have any recycling schemes in place – they might be able to recycle the plastic with off-cuts from during manufacturing, or something.
But as for reuses…? The shape makes me think of a dress form (a dress makers' dummy) but it obviously only covers a small part of the body so won't be useful for that much – attached to a stand I guess it could be useful for skirts and the like, and, of course, it would be perfect for belly chains and belts (although admittedly they don't really need that much modelling ;) )
Any other suggestions?
Related Categories
items
,
medical
Search for other related items