How can I reuse or recycle cardboard-backed waffle foam?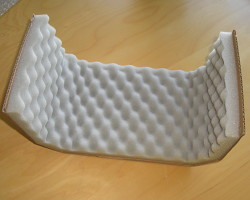 As I mentioned a few weeks ago, I'd been over to the HQ of Ruby-on-Rails ISP BrightBox and discovered a load of computer parts packaging.
As well as the plastic trays that we featured the other week, there were a number of sheets of cardboard-backed bumpy foam – which is apparently called waffle foam but, if the picture's not clear, it's the stuff that people usually use for soundproofing.
These sheets aren't that big about 15cm by 45cm so you'd need a LOT to do any serious soundproofing and could be kept for future packaging purposes – but I suspect they might have so more fun reuses.
The cardboard on the back limits it to dry/non-fire related things – I guess it could be pulled off but that seems to provide it with a lot of structure.
Any suggestions?
Related Categories
household
,
items
,
office
,
packaging
,
technology
Search for other related items