How can I make jewellery by reusing and recycling stuff?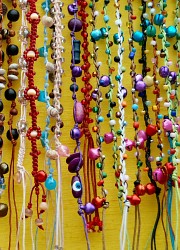 We've had another email from Agata:
Hey, it's me once again :P I love jewelry: bangles, charms, earrings, bracelets, broaches and so on. Do you have any ideas, what can I transform into this bling-bling stuff?

I already know about waterbottle beads and paper beads, but what else?
As I've said before, I love fun, DIY jewellery too – making it as much as wearing it.
I'm not sure whether Agata is asking for ways to transform/revamp old jewellery or make new stuff so ideas for both are welcome.
My favourite earrings at the moment are ones I made from salvaged buttons – the buttons dangle on wires but I've made small buttons into cute studs before too.
I also love Jane Eldershaw's junk jewellery and the great stuff Alison Bailey Smith makes out of old wire from televisions.
As for renovating old stuff, I've got a wooden bangle that's a lovely shape but has got a weird pattern on it – that's ripe for wrapping in wire (just as soon as I find some suitable stuff), and I'm always taking apart old necklaces to salvage their beads for new projects.
I suspect this is a pretty wide topic and it comes down to personal aesthetics in the end about what you make but what's your favourite thing to recycle into jewellery (or beads etc)?
(Oh, and Agata: once you've made all your new stuff, you might want to check out this post: how to make jewellery organisers by recycling stuff?)
(Photo by sloopjohnb)
Related Categories
art & crafts using recycled stuff
,
reverse this
Search for other related items