How can I reuse or recycle ice cube trays?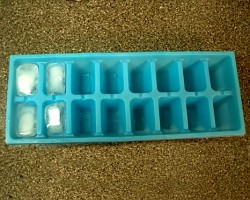 We've had an email from Abby:
got lots of ice cube trays. don't know where they all came from since we hardly ever make ice! ideas?
To speak like a marketeer for a moment, you have to think outside the box. Or outside the cube as it is in this case.
Don't just think about freezing water, lots of other things freeze well and are useful in cube size quantities. I've made frozen grated fresh ginger in the past – to stop it going off before we could use it and also because it's useful for dropping in stuff – and I know other people make concentrated stock cubes too. Any other cool things to freeze in cube shapes?
Other than that, the little compartments would be great for sorting beads, or small screws or the like. Novelty shapes could be fun jelly moulds too. Ooh, the square ones could make jelly bricks and imagine the construction fun!
Any other ideas?
(Photo by Prattflora
Related Categories
household
,
items
,
kitchen
Search for other related items