Recycling old television wires into bags and jewellery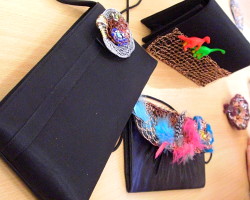 Yesterday I was at the Recycle Into Art thing in Liverpool that I've been going on about for ages. Led by Alison Bailey Smith, it was a workshop to show us how to turn old waste wire – mostly from old televisions – into jewellery and bags.
Alison started off by showing us her favourite knotting technique but I kept forgetting how to do it mid-knot so ended up knitting a section of copper-coloured wire instead. While I slogged away at that, Alison showed us a number of other techniques including making coils from scrap plastic/foil (from sweet bags, carriers or anything really) wrapped in wire, twisting strands of wire together evenly using a hand drill and working with coaxial cable, sheathing and other scrap metals (Alison frequently uses tomato puree tubes – which are gold coloured on the inside – and the silver insides of toothpaste tubes for backing pieces).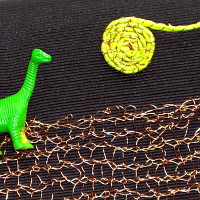 The session was well attended – with about 10 of us around the main table – and we all brought our own ideas and other craft techniques to the party so learnt as much from each other as from Alison. With my knitted base, I played with a number of ideas for the focal piece of my bag but in the end, decided to use two small toy dinosaurs I'd brought along (Jeff and Zach) and a deadly meteorite made out of more of the copper-coloured wire and the lime green handles of a M&S carrier bag.
Given the time frame of the class, most people focused on making smaller things – jewellery or items with broach pin backs so they could be used as decorations on clothes or on bags (Alison was wearing one of her broaches as a necklace pendant; the one below was made by someone in the workshop). In hindsight I guess I should have done this too because I spent a long time knitting when I can do that at home ;) Still, it was a great workshop and while I perhaps didn't do as many varied elements as some people, I feel I've got the knowledge to go it alone now – and certainly will go for it ;)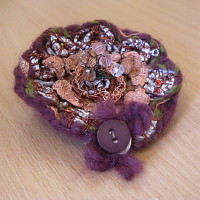 Thanks so much to Alison for running the workshop and providing all the materials. Thanks are also due to Red Dot Exhibitions for organising it and all the other (free!) workshops this week – I just wish I'd been able to get over for more of them…
(More photos to follow when I get myself organised ;) )
Related Categories
art & crafts using recycled stuff
Search for other related items