Boots made from old tube and bus seats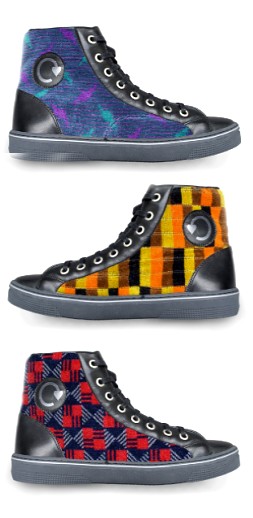 I meant to post this last week but time got away from me (as it has a tendency to do these days).
Anyway, shoe company Above+Below London have launched a new partnership with FirstGroup and London Underground to make Chuck Taylor/Converse style basketball hi-tops – with a cute twist.
The shoes' uppers are made from iconic bus and tube seat covers – from the garish to the very garish – but with that cool retro feel. (I remember the middle one from my youth on rattling MerseyBuses so they're not just London designs, or rather not just designs only used in London.)
The rubber soles are incorporate recycled old bus tyres and apparently the trim includes "re-used leather cheque book wallets".
They're not cheap – at £80-90 – but are sweat-shop free – made in Portugal – and from "100% salvaged UK waste" — which is a LOT more than can be said for most trainers in that price range…
Related Categories
art & crafts using recycled stuff
,
clothes and fabric
Search for other related items