How can I reuse or recycle flippers?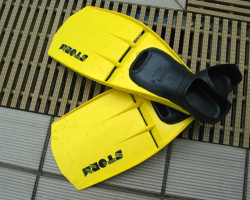 We've had an email from Alfonso, asking:
Can I recycle a torn rubber flipper (the kind used for snorkelling)? I know you can get recycled rubber products.
Rubber recycling is quite common – car tyres being the most common thing collected and reused – but while I've seen bins for tyres at our local tip, our local tip guys seem pretty strict that it's tyres only.
Does anyone know of any recycling companies that take rubber from individuals or anywhere it's collected for recycling?
And what about reuses?
Related Categories
hobbies
,
items
,
sports
Search for other related items