How can I reuse or recycle (or redistribute) old memory cards?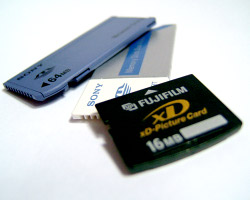 We've kinda already the memory stick thing before but we've had an email from Michael which expands on the idea a bit:
Is there a charity or anything that redistributes old memory cards and USB keys? I've got some old flash cards from my old cameras and some SD cards too as well as the memory sticks. The biggest are 256kb so I doubt they would be worth selling but they all work, I've just got bigger storage ones now.
I have no idea I'm afraid but I like the idea – does anyone know of anything? (In fact, I like the idea so much that if there isn't already a group doing it, I'll set up a scheme to collect and redistribute them myself.)
And any reuse ideas for if they're broken?
(Photo by fanf)
Related Categories
items
,
technology
Search for other related items