How can I reuse or recycle … old plastic (credit) cards?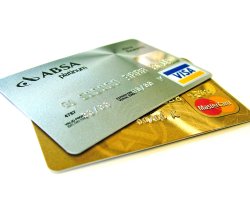 Because of all the hoohah over identity fraud, we're told that bank cards and credit cards need to be snipped up into a million pieces then strewn to the four corners of the earth, preferably into volcanoes and the like. But are there any green (yet still not fraud-risky) ways to recycle them instead?
And what about cards that don't require such precautions? I have a whole wallet full of plastic credit-card-esque cards that have expired – like discount/reward cards, my old library card and the frequent flyer card from when I frequently flew.
Aside from breaking and entering locked warehouses in movies, anyone got any suggestions for reusing them?
(Photo by LotusHead)
Related Categories
household
,
items
Search for other related items