How can I reuse or recycle old squash balls?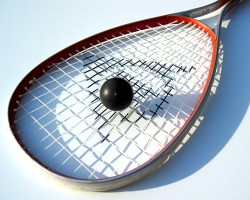 We've had an email from Simon:
Any ideas on how to recycle squash balls? I play squash 4-5 times a week so end up with loads that are past their best. I'm sure there must be something better I can do than just throw them away? Suggestions I've had were to use them in the washing machine (?), in the cistern to save water, cover them in glitter to make xmas decs or make my own lottery / bingo set ….
I think the washing machine thing is like part of the idea behind washing balls (Ecoballs etc) – they bang against the clothes and the friction helps remove the grim and dirt, or something. That's an awful explanation – sorry. Can anyone explain it better?
The lottery/bingo idea may seem a bit of a joke but if a local school fair or church fete may be able to use a whole stack of them for just that purpose – so it may be worth offering on your local Freecycle group just in case.
Any other suggestions? Am I right in thinking they're made from rubber – and if so, what are the recycling options? Anyone know?
(Photo by wizard)
Related Categories
hobbies
,
items
,
sports
Search for other related items