How can I reuse or recycle squash or marrow leaves?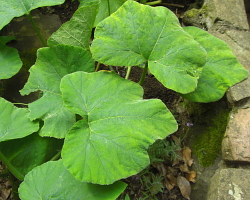 I always feel a bit silly asking for suggestions for vegetable/garden waste because the vast majority of the time, it just goes in the compost bin, job done — but sometimes I think it's worth asking because what is a common place use/reuse to someone is completely mindblowing to the next (for example, the broccoli stalk issue).
I thought it would be worth asking about squash (above) and marrow/courgette/zucchini (below) leaves because our garden is full of them and some of them are massive – when they stop finally fruiting, that's going to be a LOT of vegetable matter going in the compost bin. Obviously not the end of the world – they'll make nice compost for next year and it'll nicely balance out our browns in there – but still.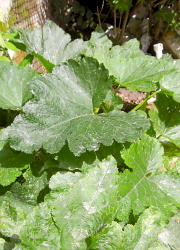 From what I've read, chickens aren't so keen to eat them so they're probably not good for them. What about other livestock? If it's veggie livestock, the leaves will end up in the compost anyway, just serving another purpose first ;)
My next question was going to be "can we eat them?" but a bit of Googling has already answered that for me – yes, we can eat squash leaves but best stick to the tender new leaves & shoots of summer squash, else they're a bit tough. They also need peeling too apparently. Anyone had any experience of cooking with them?
Any other reuses for them?
Related Categories
garden
,
hobbies
,
items
Search for other related items