How can I reuse or recycle old golf balls?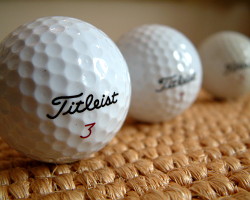 We've had an email from Vicky, saying:
I live in Southport and the Open Golf Championship here the other week made everyone golf crazy. I walk my dog on the beach and every day since then she's brought me golf balls that she's found on the sands. I don't play so I don't know what to do with them but I don't just want to leave them on the beach to get washed away. Any ideas?
First things first, let me wave excitedly at you, Vicky and request that you give my fondest regards to my hometown. I lived in Southport for the first 18 years of my life – my mum and dad still live there – and remember two Opens (I worked at the last one in 1998; watched, utterly bored, at the one before that in 1991) so know what an impact it makes on the town.
As for the golf ball situation, I guess the most obvious solution is pass them along to someone who will use them – but after time on the beach/in a dog's mouth, they might not be pristine enough for Royal Birkdale.
Any other ideas?
(Photo by myles)
Related Categories
hobbies
,
items
,
sports
Search for other related items