How can I reuse or recycle old photos?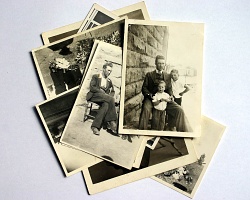 We've had an email from Sue Taylor:
We've just moved to a much smaller retirement flat and we have hundreds of old holiday snaps and photos that none of the family want… You know the sort of thing, me in the pool, him in the pool, me on beach, him on beach etc etc yawn yawn…
Can they be recycled and if so who do I send them to?
We've got similar piles of photos – I'm quite the snapper, but not a very good one, and so have heaps and heaps of utterly blurred shots of cats quickly moving out of shot or ones of a sheep/band on a mountain/stage about two nautical miles away from me from the days before we went digital.
So any suggestions? I realise there are loads of potential craft projects for favourite photos but what about those ones that aren't particularly favourites?
(Photo of photos by twasa)
Related Categories
hobbies
,
household
,
items
Search for other related items