How can I make a bag using recycled things?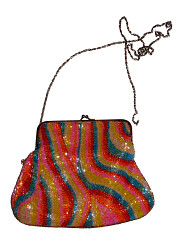 We've had an email from Janelle for our new reverse Recycle This section:
hi. i'd love to have a go at making a shopping bag out of recycled plastic but don't know where to start. any ideas?
I've knitted carrier bags into a new bag before now – except I picked thicker than normal bags which were a PAIN. Aside from that though, it was pretty straight forward – I just garter-stitched a strip as wide and twice as long as I wanted the finished bag to be, then folded it in half and sewed up the sides. The (short) handles were made in the same way, just handle-sized dimensions instead. It looked more rugged than it felt though – but I think my knitting/sewing skills were to blame for that.
I love the bags woven from old packaging and am planning to give that a go once I get my million other projects out of the way – anyone got any hints or tips on how to get started? Or what types of packaging to use?
Away from plastic, I've made a few shopping bags from old/charity-shop pillow case – either standard tote ones (using the bag part of the pillowcase) or slightly bigger one I made with a little help from the cats the other week (it's great and seems far stronger because of the wider strap).
Other materials: Ecoist, amongst other people, also makes bags from old movie posters; I've seen bags made from old bamboo blinds/placemats (the wood stained a fun colour and fabric used for the gusset); the tops of jeans make good rucksack-type bags (built-in pockets!); and I'm tempted to play with making a wallet or possibly clutch bag using drink cans – the cans cut into strips then woven into a flat sheet (easier than reweaving them into a can again…).
Any other suggestions?
(Photo of a non-recycled but colourful & shiny bag by paiviti)
Related Categories
clothes and fabric
,
hobbies
,
items
,
packaging
,
reverse this
Search for other related items