How can I reuse or recycle paint colour charts?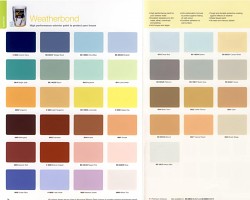 We've had an email from Sandi asking:
What can I do with old paint charts, the colour reference ones? I know I can just throw them in with cardboard recycling but I wondered if anyone had any creative ideas for things to do with them instead.
I've heard that home style experts recommend keeping a swatch of colours and material samples for your key rooms in your bag when you're out shopping – so that you can check if things match/work together easily – but I guess that only uses up the tiny square or two of paint that you used, and not the rest.
It's not quite the same but my dad had a colour chart for his stamp collection when I was a kid and I used to love playing with that – looking at the different shades of each colour and how they gradually turn from one shade to another – and I guess paint charts could be a limited version for that — ideal if you want to raise kids like me who, when asked for their favourite colour, will reply "a matt grey-blue with a subtle hint of green" or "purple-tinged charcoal". (I would probably jump for OCD-joy if someone gave me a pantone reference guide for my birthday on Sunday. :) )
Other suggestions though? I don't scrapbook so don't know but could they be useful for that?
(By the way Sandi, if you've got some leftover paint from your DIY work, you may want to check out our post on that very subject and see how it can be redistributed to good causes.)
Related Categories
household
,
items
Search for other related items