Recycling bottle tops, caps and that sort of thing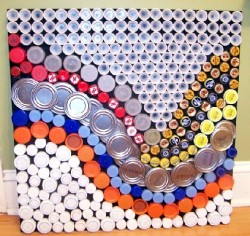 Following my post at the start of the month about Jan turning pop bottles into flowers, Jennifer Houck got in touch about some art she's made out of old rubbish.
I have made quite a few things out of plastic bottles and caps. Our recycler only comes once a month, and will not take bottle caps. So with overflowing amounts of caps and bottles, I decided to see what I could do with this surplus.
This picture she says is playing with colour and texture of the original bottles but in other photos she sent, she painted the bottoms of clear bottles with marble-effect paint – which I think highlighted the cool, and often pretty shapes, of the bases themselves.
She's also made these really fun figures out of old bottles – using the curved shape of the bottles to full advantage on the bug's wings and chicken's tail – and papier mache from old magazines. I like them a lot and am very tempted to give it a go myself.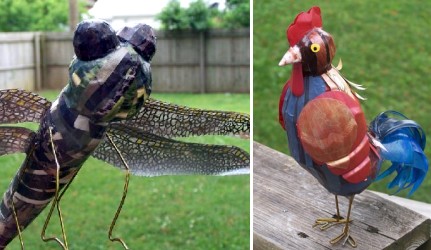 (Are you, or anyone you know, making art by reusing/recycling random old stuff? If so, let me know and I'll feature it here.)
Related Categories
art & crafts using recycled stuff
,
packaging
Search for other related items