How can I reuse or recycle bread bag tags?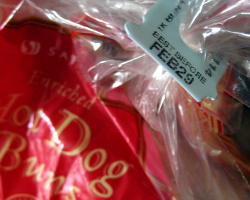 We've had an email from Lyndall, saying:
hi, i was wondering if anybody knew what to do with bread tags. i hate throwing them away, but i don't know what else to do with them. would welcome any suggestions.
We don't really have them over here these days – shops seem to prefer those little sticky things that lose their stickiness (and therefore ability to seal the bag) after one opening but then still manage to attach themselves to your shoes/socks/cat and refuse to come off no matter how much you shake your foot/cat.
Anyway… bread tags/clips. I suspect they could just be reused as general plastic bag seals around the kitchen – but any other suggestions?
(Photo by Bando26)
Related Categories
household
,
items
,
packaging
Search for other related items