How can I reuse or recycle plastic handicap car parking tags?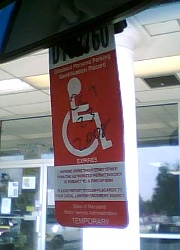 Ages and ages ago on the Suggest An Item page, Carolyn asked about reusing handicap parking tags – but I missed it until Raynor recently comment last week. Sorry – not sure how it slipped by me! Anyway, better late than never, Carolyn asked:
Every two years my husband's blue handicap tags for the vehicles expire. The county gives him new ones at no cost. What can we do with the expired tags, made of heavy but flexible plastic? They are about 3.5″ x 6.75″ plus another 2.5″ for the hook at the top.
Raynor suggested cutting them into strips and using them as plant markers in the garden/allotment, since they'll be weather proof.
Philip also had a suggestion: "I'd put them with your tools and they will come in handy sooner or later." I imagine that's what we'd do with them too – I always need stuff like that when I'm filler-ing holes before painting. Speaking of painting, last week I was doing some painting-as-art painting rather than DIY and I could have used something like that as a mixing palette (I ended up using some old plastic packaging instead but it was always to hold).
At this time of year, my seed stash is full to bursting and I like to organise it by sowing date – those tags would be just about the right size to use as dividers in my seed box — and would work much better than the too small bits of cardboard I'm using now.
Flat pieces of heavy yet slightly flexible plastic are useful as dough scrappers when baking or doing any similar crafts (like salt dough or even clay pottery) where you need to scrap your material from the worksurface sometimes.
Finally, one more suggestion from me, ask your county/council if they'll take them back for recycling. Everyone with the tags in the area will be in a similar position and will need to dispose of them some how – depending on the type of plastic, they might find it easier to get them recycled in bulk than someone relying on consumer recycling services.
Any other suggestions? What would you do with them?
Related Categories
household
,
items
Search for other related items