How can I reuse or recycle an broken dance mat?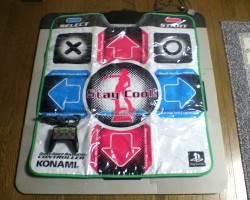 We've had an email from Joanna, asking:
My (soft) X-box dance mat is slightly broken – I think the connection from one of the pads is busted. Any ideas how I can reuse or recycle it?
I've only ever seen the solid ones so I don't know how thick/malleable the soft ones are but if it's reasonably thin and not as wrinkled like the one in the picture, it might make a cool "rug" for a dance fan's bedroom or could be used as a fun surface protector on a desk. Anyone with more knowledge of them got any better ideas?
I'd also be interested in hearing if anyone has any suggestions for the solid ones too – I suspect that there will be a lot dumped on the scrap heap (literally) when either the dancer goes off the game or when the console is upgraded and the new pad doesn't work with the old machine (like happens with joysticks and game pads). Any suggestions?
(Photo by PiaCarrot)
Related Categories
hobbies
,
household
,
items
,
technology
Search for other related items