How can I reuse or recycle … plastic lollipop sticks?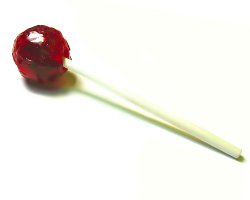 When we get together with our friends, we're just about the wildest, craziest group of trendy 20-somethings you're ever likely to meet.
We're so wild in fact that the other night some of us had MORE THAN ONE LOLLIPOP while we were sat around chatting. (I stuck to one because I don't want to develop an addiction – it was very nice and orangey though).
By the end of the night, there was a small pile of plastic lolly sticks on the table and I wondered "how can I reuse or recycle them?"
So how can I reuse or recycle them? For those that aren't as wild as us lollipop-heads, they're a thin, cylindrical tube of plastic about 6cm (3inches) long and just a couple of millimetres in diameter. I guess they're similar to plastic Q-tip/cotton bud sticks.
(Photo by Bubbels)
Related Categories
food
,
items
,
packaging
Search for other related items