How can I reuse or recycle … ice lolly sticks?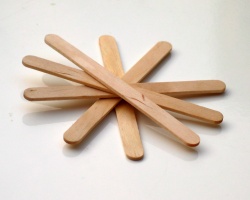 Cor, it's a bit on the warm side, isn't it?
Aside from an excellent storm last night, it's been silly-hot (for the UK at least) and sticky. I have very much enjoyed hiding in the house and only venturing out in the evening when it's all a bit more civilised. My house-bound activities have been:
peeling myself off the leather sofa (ick)
cursing my overheating laptop
and eating ice lollies.
Therefore I now have:
a rug over the sofa
a pad between my knee and the laptop
and a big pile of ice lolly sticks.
My first thought for the sticks was keeping them for labelling up next year's veg plot but since I have already have a stack of the plastic ones to use up, any other suggestions would be great!
Related Categories
food
,
household
,
items
Search for other related items