How can I reuse or recycle really cheap stud earrings?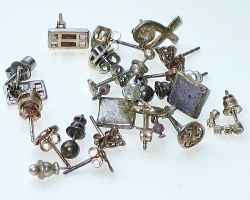 I was clearing out my jewellery box the other day and found a pile of really cheap stud earrings from the days before I realised anything less than stainless steel or sterling silver made my ears erupt in an explosion of pus and itchiness.
Because I've worn them all on at least a couple of occasions, I don't know if they can be passed on to other people to wear as earrings – particularly because my reaction tends to have messed up the polish etc.
Some of them are quite cute so could be used – maybe – as push pins on a noticeboard – since we don't have that many things that need noticeboarding, I wonder if anyone has any other suggestions.
Suggestions for the scroll (the back bit) are welcome too – I'd keep them as spares if it wasn't for the aforementioned pus and itchiness.
Related Categories
hobbies
,
household
,
items
Search for other related items