How can I reuse or recycle … babies' bottles?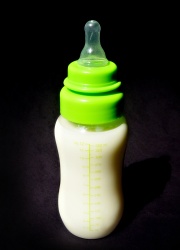 We featured babies' dummies last week and it made me realise we hadn't covered much baby paraphernalia – but there is a sure to be a lot of it out there.
So how about babies' bottles?
Can they be sterilised sufficiently to be passed on to others? And if not, what other things could they be used for?
(Photo by spekulator)
Related Categories
baby
,
household
,
items
Search for other related items