How can I reuse or recycle babies' dummies?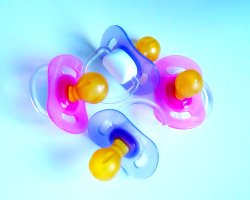 We've had an email from Gary, saying:
I have found a few leftover babies' dummies and dummy cases whilst doing some tidying in the kitchen.
Rather than throwing them away I wondered if there was any way to reuse or recycle them.
Good suggestion, Gary. There must be millions of those things lying around in households around the country.
The only thing I can think to do with them is to give them to teenagers who want "ironic" jewellery :) But any other suggestions?
DOWNTIME INFO: Just in case anyone noticed, we've been down for six hours this afternoon – our entire (huge) hosting service went down because of the floods. Everything looks to be up again now and hopefully they've got giant sandbags on standby for next time.
(Photo by xymonau)
Related Categories
baby
,
household
,
items
Search for other related items