How can I reuse or recycle … a little basket?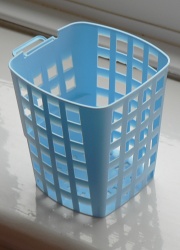 We've had an email from Annie about a little find of hers:
I'm not sure what to call this, its a little basket that was in a tub of feta cheese (I rescued it out of the bin!). About 10 cms high and with a ready made hook on the back. There has to be a use for it…
I would worry about using it for heavy things because the hook on the back doesn't look too sturdy but I would guess there are plenty of holding-things ideas – perhaps tying a loop of string through the loop and hanging it from a washing line for pegs? Using as a (non-hanging) desk tidy?
Anyone got any more creative ideas, particularly using it for things other than just holding stuff? Ideas to take advantage of the squares in the side and the little holes in the bottom maybe?
Related Categories
food
,
items
,
kitchen
,
packaging
Search for other related items