How can I reuse or recycle cheap novelty wigs?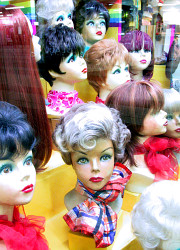 Loads of people will be wigging out tonight in honour of Halloween but by the end of the evening, their wigs will be somewhat worse for wear.
Cheap novelty wigs aren't really made to be used again and again, and have a tendency to shed all over the place when brushed or washed.
But what else could be done with them?
Curly ones would probably lend themselves better to used as stuffing – since they're bouncier – so that's one thing. What else?
Other Halloween-related posts:
Not a post but just a FYI: we scooped out our pumpkin last night, made pumpkin & ginger soup with the innards and are drying the seeds. John's going to carve a spooky masterpiece into the shell this afternoon then once we're done being all together ooky, I'm going to use it to make a couple of bird feeders. Hurrah for Halloween!
(Photo by andybahn)
Related Categories
Halloween
,
hobbies
,
household
,
items
Search for other related items