How can I reuse or recycle … jewellery boxes?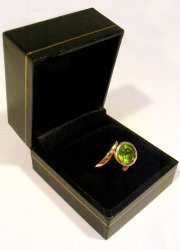 On a shelf in our bedroom, I have a little collection of jewellery boxes.
My jewellery tends to be on the cheap (and/or home-made) kind but every now and then, I get something in a box – either a proper padded ring or earring box, or just a fancy cardboard one.
Given the cheapness of the items (and my laziness), I rarely use the boxes after I've got them (as I've got a proper jewellery box and a tray to fling cheap bracelets into) but as always, I'm reluctant to throw the little boxes away.
Any suggestions for reuses that would take advantage of the padding? Or do any charities collect them for reuse?
(Photo by nsoup)
Related Categories
household
,
items
,
packaging
Search for other related items