How can I reuse or recycle … 35mm cameras?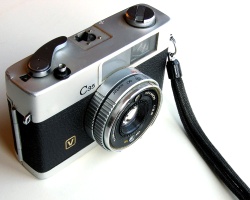 With the mass move to digital cameras these days, the old cameras have become as obsolete as the film canisters.
Nicola Dickinson has emailed us on this very subject – how can the cameras themselves be recycled? Or, I guess, reused?
A lot of old electronics (like phones and computers) are collected for charity and shipped overseas but I don't know if this would be happening with cameras too because they don't seem as "essential" (inverted commas because the others aren't really essential in most situations) and they're useless without the film and developing infrastructure etc.
So any ideas on how they can avoid being landfill?
(Photo by AAD)
Related Categories
hobbies
,
household
,
items
Search for other related items