How can I reuse or recycle … the least clingy cling film ever?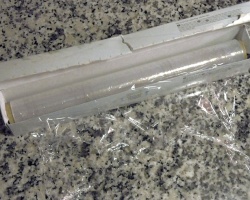 A few years ago, I bought a box of supermarket value cling film (aka plastic wrap, saran wrap, cellophane) but in the process of making it value, the producers seem to have left out the cling.
I don't use it much anyway (more of a fan of re-usable tubs) but whenever I do use it, it's absolutely infuriating because it doesn't stick to the bowl/pan in question, or to itself, thereby rendering itself utterly pointless as a thorough covering. Grrr.
So any suggestions on what I can use it – essentially just very thin plastic sheeting – for instead?
(Photo by Ilmari Karonen, c/o Wikipedia)
Related Categories
items
,
kitchen
Search for other related items