How can I reuse or recycle … hard sugar?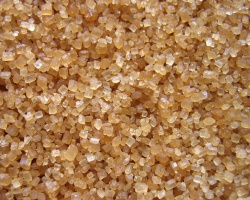 John made pancakes for breakfast yesterday (mmm pancakes) and while we were digging around in the back of the cupboard for the golden syrup, I found two half bags of brown sugar.
One of them John put to one side when he realised it was just white sugar tinted brown and the other was from the time I obsessively baked ginger cakes. Neither bag had that much inside it but still too much to throw away – and both of them were practically solid lumps.
Is there any way to reclaim it from lump form? And if it's gone lumpward, does that mean it's probably past its usefulness? And if it's beyond culinary use, any other suggestions for reuse?
(photo by hilaryaq)
Related Categories
food
,
items
Search for other related items