How can I reuse or recycle … aerosols?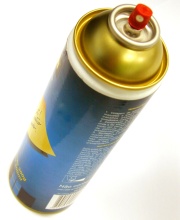 I suspect this is going to be more of recycle one than a reuse one – but if I'm wrong, suggestions on both are most welcome.
Since we're not big consumers of aerosol-driven personal hygiene/hair products, we don't have that many of them – the ones we do have are from specific cleaning products (namely, at this time of the year, household flea sprays – two of the cats have quite bad flea reactions so we have to go a bit OTT on the extermination front to stop them from getting all bitten to shreds, even after they've been treated themselves).
So what can we do with the aerosol cans ones we're done? Can they be recycled?
(Photo by cinezi)
Related Categories
bathroom
,
hobbies
,
household
,
items
Search for other related items