How can I reuse or recycle old socks?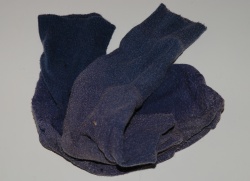 John's socks have a tendency to
a) stretch to about seven foot in length
b) go hard and strangely crunchy
c) go missing
Mine hole at the heel and toe, lose all elasticity around the ankle then drain of colour.
When they've gone past the not-even-on-washing-day-when-every-other-sock-is-dirty stage, we usually just throw them in the dirty rag bag for using when something gross needs cleaning up. But even with all the gross (feline-related) things that happen in our house, we still have a huge stack of odd and broken socks.
Ideas?
Best Suggestions
Reduce: If you can afford them, buy good quality socks to start with – they'll last a lot longer – keeping their shape and colour – and save money/resources over all. Fix small holes when they appear too – it's a lot easier and neater to fix smaller ones than big ones.
Reuse: Socks are perfect for cleaning rags – slip a old sock over your hand and use it as a duster.
Recycle: If they're clean, they can be shredded and used as stuffing in toys and draft excluders.
See the comments below for more suggestions and ideas
Related Categories
clothes and fabric
,
items
Search for other related items