How can I reuse or recycle mixed/MDF sawdust?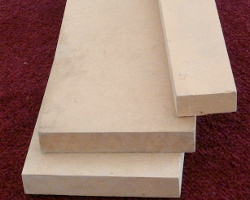 We've had an email from Paul:
We've got an extraction system at our joinery shop which produces big bags of sawdust but we use a lot of MDF and other particle boards so it can't be used for animal bedding. Do you know how they could be recycled?
We've covered wood shavings recycling before but the obvious answer there was animal bedding – lots of people want rid of them and lots of people want it! The MDF dust is a bit of a stick in the wheels though – as Paul says, there are issues using MDF dust in animal bedding — the dust is so fine it can easily be kicked up and lead to respiratory problems.
So what else can be done with it? I did wonder whether it could be pressed into wooden pellets for biomass boilers but apparently the glues/chemicals used in particle board construction may be problematic – an undesirable contaminant. Any other ideas?
(Photo by Vaderluck)
Related Categories
business
,
garden
,
items
Search for other related items