How can I reuse or recycle an old cast iron casserole dish/pan?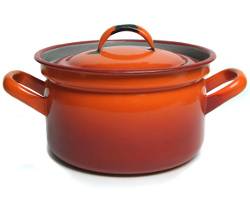 Good friend (and bully ;) ) of Recycle This and The Really Good Life Su has emailed with a question:
Me again! With an actual, proper reuse question!

My much used enamelled, cast iron casserole dish has died. Proper died, a large section of the enamel has come off the bottom & I dropped the lid on the stone flagged kitchen floor & it broke into 3 pieces!

Me & that casserole have been together a long while & been through many culinary adventures, I know that I could put a plant in it, but wondered if you or anybody else had any idea how I might reuse it?
You might be able to get a replacement lid – I see branded ones popping up on eBay regularly – but I suspect the enamel coming off is the bigger issue. There seem to be a few enamel repair products for chips on ranges or stoves but which wouldn't be suitable for cookware. Some people on Chowhound recommend continuing to use it if it's not flaking – the cast iron will eventually season like non-enamelled cast iron – but I could understand other people being unwilling to risk contamination.
Away from cooking, unfortunately the wear to the enamel would stop it being useful as a small dye bath or a soap making pot since the newly exposed iron would react with the dye or raw soap. (The latter is a particular shame as the heavy iron would be useful to help maintain the desired temperature during hot process soap making.)
I can completely understand Su's desire to keep it around – it's one of those things that seems like it would be really useful – but I'll admit to being at a bit of a loss about what I'd do with it, other than for storage (a fun fruit bowl? or for craft bits or knick knacks?) or the planter than Su mentioned.

What would you do with it? How would you reuse or recycle it?
Related Categories
household
,
items
,
kitchen
Search for other related items