How can I reuse or recycle bits of old soap?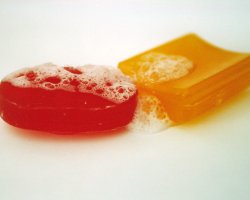 We've had an email from Chris Slowe about soap:
It's unwieldy at the best of times but when you get near the end of a bar of soap it starts falling to pieces and is practically unusable. Even worse a friend of our bought us a cake made out of soap! It's finally being used for its inherent properties but is falling to pieces. Now if there was only some way of reconstituting all those bits into a new bar… Can it be squashed, melted back together again? Any ideas?
We had some soapy suggestions back on the old tights post which made me think we'd covered this already – so good call Chris for noticing we hadn't.
I know it can be melted back into a single bar or made into liquid soap/laundry soap but I've never done that myself – any soapmakers got any advice?
Or anyone got any other reusing or recycling ideas for the slithers?
Best Suggestions
Reuse: Soap is a useful addition to tool boxes, sewing kits and bike repair kits as it's a good lubricant. Keep an end of soap in each in case you need it.
Recycle – in the home: Collect the ends of several bars of soap and grate them up (or break them into small pieces) then gently heat them until they're malleable. Finally squish them into a mould (see our page on mould ideas!) and leave them to resolidify and there you go, new soap. You can also grate them up to make laundry soap – a frugal alternative to washing powder.
Recycle – in the garden or garage: Place the stubs of several soap bars into the foot of an old pair of tights/stocking/thin sock or a fine net bag (such as an onion or garlic bag), then hang them near an outdoor tap for when you. The fabric/net will keep much of the dirt/grim away from the soap itself and help increase lather too.
See the comments below for more suggestions and ideas
(Photo by mfrietsch)
Related Categories
bathroom
,
household
,
items
Search for other related items