How can I reuse or recycle an old steam iron?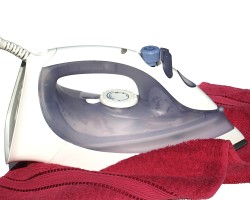 We've had an email from Judith:
My electric steam iron gave up the ghost last year. I was told it was not economical to repair it and had to buy a new one pretty quickly. The old one has been sitting in the cupboard ever since as I hate to landfill it.
Any ideas?
Yes, irons are in the same "annoying cheaper to replace than fix" category with toasters, kettles and numerous other household electricals. Grrr.
As a minimum, in the UK, you can take it along to your local household waste collection spot for proper disposal and recycling where possible and for proper disposal where that's not an option – many retailers also have "take-back" schemes when you buy your replacement from them.
But what about reuses? If it's not too heavy, it might be suitable for children playing house – but any other ideas?
(Worrying photo by lusi – people iron towels???)
Related Categories
household
,
items
,
technology
Search for other related items