How can I reuse or recycle an old wrought iron gate?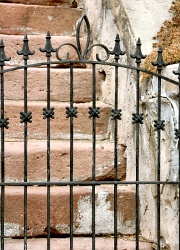 Sticking in the garden after yesterday's "how to make cloches" question, I'm a member of UKVegGardeners and spotted this question on the forum yesterday:
Anyone got any suggestions, please, on uses for an old wrought iron 3ft square garden gate which has reached the end of its gate life but must have some usefulness left?
Since UKVegGardeners is a community of, well, UK veg gardeners, the suggestions have mostly been about ways to use it in the growing of veg ;) People have suggested using it at the back of a trough for climbers or if you have two of them, making an A-frame for peas. (Someone else suggested a homemade BBQ grill for cooking "jumbo sausages" :) ) I think they're great suggestions – but wondered if anyone else over here had other ideas to add.
I've seen iron gates that are no longer gate-able but still reasonably sound used to patch up fences in a shabby chic way – the spaces let small animals/wildlife nip through but not bigger things.
If it's pretty wrought iron, I wonder if it could be used to make garden furniture… Depending on how heavy it is, it might be wall mountable and could be used as a hanging rack for tools, watering cans and whatnot.
Any other ideas?
Related Categories
garden
,
items
Search for other related items