How can I reuse or recycle not nice homebrewed beer?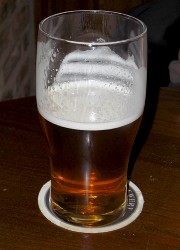 We've had an email from Simone:
My hubby and I have been homebrewing for a couple of years but our last batch was not nice at all! We've got 40 bottles of it but don't want to drink it ourselves and don't think it would be fair to force it on others either! Is there anything to be done with it other than pouring it away?
Since I'm obsessed with gardening these days, the first idea that springs to mind is slug traps – they're not fussy about the quality or taste of the beer. (We've not had to use slug traps this year because it's been too hot and dry for the critters but I've used some five years out of date four-for-80p lager for my beer traps in the past and they've dived in as if it's the finest ale of the gods.)
Other ideas may depend on why it's "not nice at all". If it's a problem with the mouthfeel or strength of flavour, you might be able to reuse it for making something like beer bread or in pies/stews.
And if there is a possibility it's just a matter of taste, perhaps you should try it on some less discerning friends — or if it's really vile, use it to teach kids not to drink ("this is what all beer tastes like, you should stick to lemonade" "yes mum, it's horrible" – perhaps an unwise idea from the "smoke a whole box of cigars" school of parenting ;) )
Anyone else got any other ideas?
Related Categories
food
,
hobbies
,
items
Search for other related items