How can I reuse or recycle expired beer or beer dregs?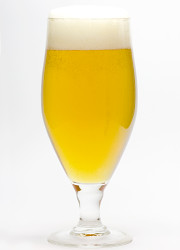 We've had an email from Wen Rou (from Chile!):
Hi, I've got a box with cans of expired beer, how can I recycle it? The empty cans I'll take them to the recycling center. I can just throw the beer away, just wondering if anything useful can be made with it.
If you've got a snail & slug-infested garden, the most obvious suggestion is to use it for beer traps to catch those slippery suckers. From what I've seen, they're not fussy whether it's lager, ale, in date, premium or the cheapest nastiest stuff sold in our supermarket for 88p for four cans (John tried the latter and said it tasted like bitter, gone-off water).
Beer is also supposed to be good for hair – mix with water as a final-rinse aid. It apparently leaves it silky and shiny – but I don't know whether that needs a yeasty ale-type beer or whether a lager will do. (Anyone know?)
Any other suggestions for either this expired beer or other related stuff, like the sediment-y bit at the bottom of bottles/barrels?
(Stock photo by macleod)
Related Categories
food
,
hobbies
,
items
Search for other related items