How can I reuse or recycle kitchen cupboard doors?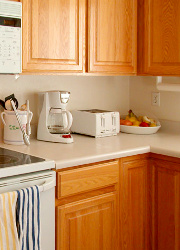 My friend Katherine is getting a new kitchen soon and I've unofficially bagsied her (wood or woodish) kitchen cupboard doors – for reusing for other stuff rather than just putting in our kitchen.
Lots of still-in-good-condition kitchen cabinets are given away from Freecycle/Freegle or sold on eBay – a quick and cheap way to revamp a kitchen. But what else can be done with them?
Alison Bailey Smith recently ran a "de-junk re-junk" project with local artists around the Wirral – and that included work on old kitchen doors. I've also seen a few different cupboard doors revamped into pretty serving trays – although I can only find one picture at the moment.
I'd imagined I'd use Katherine's cupboard doors in the garden – if there is a full cupboard frame, I'll use it as storage space on the wall near by greenhouse/where my potting bench will be. Depending on what the doors are made from and if there is enough that are a similar size, they might be suitable for making planters (my current obsession!). If they're not quite strong enough for that, I might use some to make a broody/quarantine coop for our chickens in case we ever need one.
Any other ideas for things to do with them?
Related Categories
household
,
items
,
kitchen
Search for other related items